five minutes
five minutes is a unique video performance art showcase which represents works by female artists from around the world (Japan, Uruguay, Thailand, Belgium, India, Singapore, the Philippines, Bangladesh, Vietnam, South Korea, Germany) who support the Burmese anonymous women artists under their difficult circumstances.

Artists: Ana Aristimuño Olivera, Aor Nopawan, Béatrice Didier, Dimple B Shah, Eve Tan, Jessica Tanto, Minori Sumiyoshiyama & Tam Pham, Nerisa Del Carmen Guevara, Noel Langone, Preema Nazia Andaleeb, Quynh Lâm, Racquel de Loyola, Sakiko Yamaoka, Snežana Golubović, Yeonjeong
Featured Artist 3:Ana Aristimuño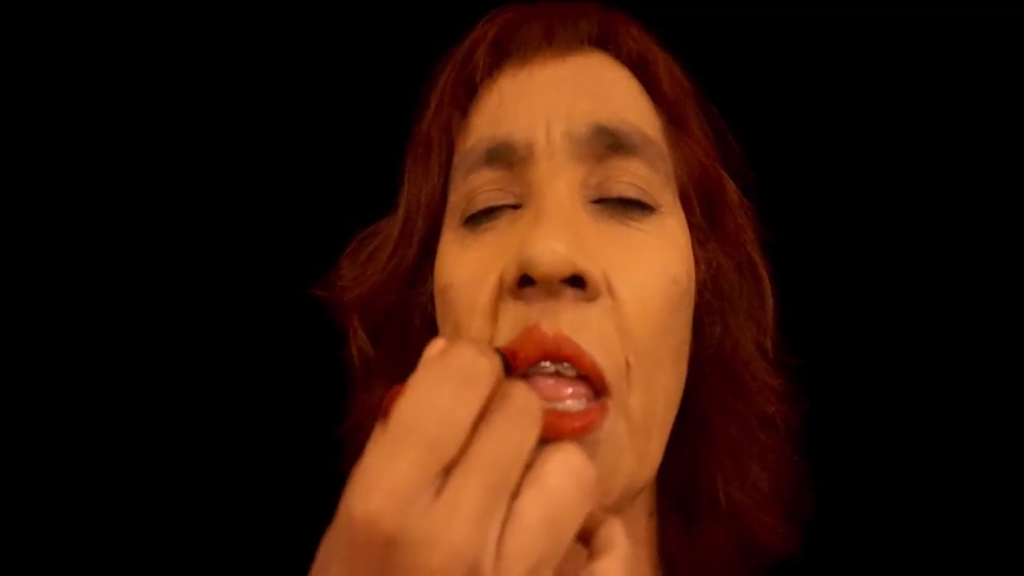 Red
Video performance, 2022
The color red has been used since ancient times; it dates back to the Paleolithic. Black, white and red pigments have been found in cave paintings. Since then, it has played a powerful role in history. Red has been given different symbols around the world. Some of these symbols have become universal. Blood red, passion red, love red, wrath… Red reveals contradictions, feelings, and emotions. It establishes a code that is beyond political, cultural, economic, or racial boundaries. It is a common territory and a meeting place. A body establishes that territory, a ritual body, a red body…
Ana Aristimuño
Ana Aristimuño was born in 1969 in the city of Tacuarembó, Uruguay, and lives and works in Montevideo, Uruguay. She is a graduate of the National School of Fine Arts Institute (IENBA) of the University of the Republic (UDELAR), a teacher of preschool education graduated from the Faculty of Social Sciences (UCUDAL) and obtained a Bachelor of Science from the Education University of the Republic (UDELAR). She has done residencies in Mexico, Argentina, Italy, Spain, Germany, and Colombia. She created and managed the collective m.a.m (Women Artists in Movement). She works individually and collectively in Latin America, Europe, and the USA. She coordinated and perfected herself in the international program for artists SISMO, directed by curator Daniel Fischer in Uruguay. She has been working and researching performance language since 2000. It is part of the collective Pensión Cultural Milán which produces and manages Performance Night since 2016.
Previously featured five minutes artists
Featured Artist 2:Minori Sumiyoshiyama & Tam Pham(2×2 WindowS)
Credit
Co-director/Video/Performer: Minori Sumiyoshiyama(Artist/Dancer, Japan)Co-director/Composer/Performer: Tam Pham(Multimedia composer, Vietnam/Germany)

Burmese voice: Anonymous Women(Myanmar)
Dramaturge: Chikara Fujiwara(Artist, Japan)
Premier distribution: NPO DANCE BOX
Second edition: Indonesian Dance Festival
Produced by: 2×2 WindowS
Minori Sumiyoshiyama (Japan)
Minori Sumiyoshiyama is a Japanese artist, dancer, actor, and researcher. Her works are focusing on the relationship between space and body. She also creates relationships with audiences with tools of her own making, for example, dancing with balloons which include the breath of the audience inside, or playing a Japanese traditional card game together with the audience, etc. Sometimes she collaborates with musicians or architects.
Since 2017, she has been active in various parts of Asia, holding "Hitsudankai – From now/
here, Silence" which makes dialogues with only writing communication on a paper in a completely silent situation. In 2019, she co-founded the art collective orangcosong with Chikara Fujiwara and joined the tour project "Engeki Quest", the table performance "IsLand Bar" etc. Since 2020, she has launched an online international collaboration project "2×2 WindowS" with Vietnamese multimedia composer Tam Thi Pham.
Tam Pham (Vietnam/Germany)
Tam Thi Pham is a multimedia composer, electronic musician and improviser from Vietnam, currently based in Hamburg. Apart from her work with musicians, she also pursues collaborations with choreographers, dancers and poets.
Her works are a journey of exploring individuality in an attempt to connect with the surrounding social environment. She is trying to build a way of expression in which composition and performance are two indivisible parts. Tam Thi Pham is interested in using the traditional Vietnamese music material in her compositions. She has also been actively participating at different music festivals in Vietnam and Germany.