Minori Sumiyoshiyama

& Tam Pham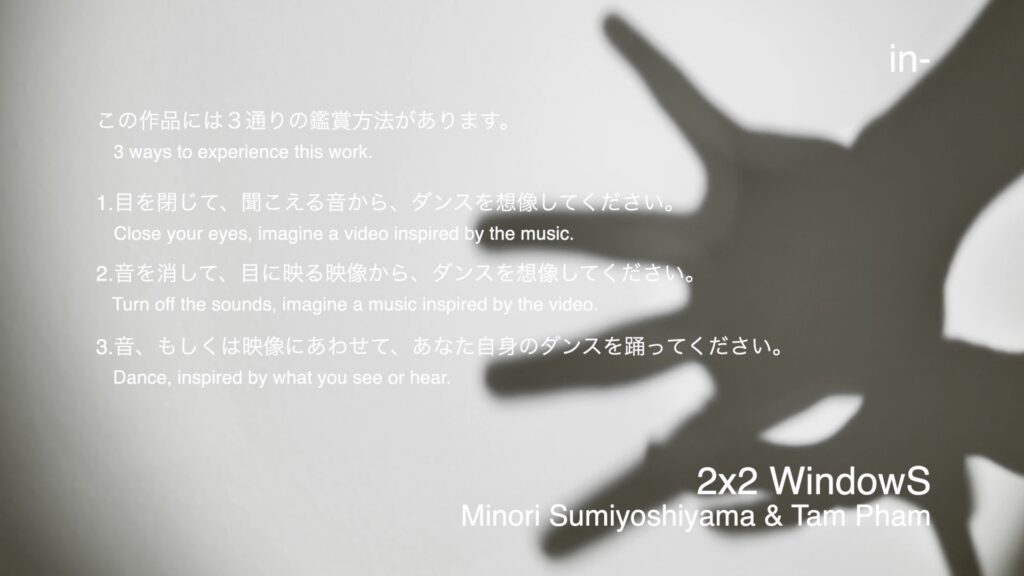 Minori Sumiyoshiyama (Japan)
Minori Sumiyoshiyama is a Japanese artist, dancer, actor, and researcher. Her works are focusing on relationship between space and body. She also creates relationships with audiences with tools of her own making, for example, dancing with balloons which include the breath of the audience inside, or playing a Japanese traditional card game together with the audience, etc. Sometimes she collaborates with musicians or architects.
Since 2017, she has been active in various parts of Asia, holding "Hitsudankai – From now/
here, Silence" which makes dialogues with only writing communication on a paper in a completely silent situation. In 2019, she co-founded the art collective orangcosong with Chikara Fujiwara and joined the tour project "Engeki Quest", the table performance "IsLand Bar" etc. Since 2020, she has launched an online international collaboration project "2×2 WindowS" with Vietnamese multimedia composer Tam Thi Pham.
Tam Pham (Vietnam/Germany)
Tam Thi Pham is a multimedia composer, electronic musician and improviser from Vietnam, currently based in Hamburg. Apart from her work with musicians, she also pursues collaborations with choreographers, dancers and poets.
Her works are a journey of exploring individuality in an attempt to connect with the surrounding social environment. She is trying to build a way of expression in which composition and performance are two indivisible parts. Tam Thi Pham is interested in using the traditional Vietnamese music material in her compositions. She has also been actively participating at different music festivals in Vietnam and Germany.